Using the Button Module it's possible to create buttons and have them link to uploaded items in the Asset Manager such as PDF documents. This can be done by following the steps below:
Go to the Asset Manager in the sidebar:
From the drop-down menu, choose the correct category. So for PDF files, choose 'Documents':

Click on the PDF icon in front of the file you want to link to.
You'll see a modal with an Asset Link and a Direct Link. Copy the Direct Link: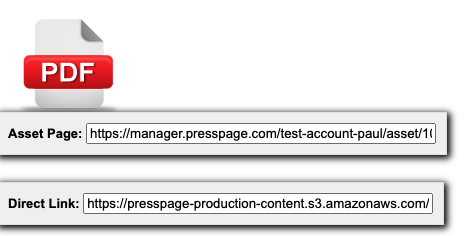 Paste the link in a notepad or somewhere else so you won't lose it. You can also open a new tab and paste it there.
Now you'll need an image for the button module as well. You can use the first page of your PDF file for this. For videos, you could create a video still and screenshot that.
Then, crop your screenshot in such a way that it has the correct aspect ratio.
After editing the screenshot, you can upload it to the Asset Manager. Make sure to exclude it from being published to the Media Library:

Now it's time to add the button. Go into your existing Button Module you want to add the button to, or create a new button module if it's the first button you're adding.
Create a new button and fill out the title with the file name of the PDF document you want to link to.
To add the screenshot, click 'Select image' to the right and choose the screenshot image from the Asset Manager.
Finally, select the 'external' link option and paste the direct link from the PDF there.
Click 'Save' to save your changes and return to the editor.