Preventing pages from appearing in your Newsroom, sitemap or feed
It was already possible to configure exclude tags to prevent pages from showing up in a Headlines or News Carousel module. Now, these options have been expanded to make sure a published article is hidden from the Newsroom front page, archive pages, the XML feed of the newsroom, the search results, the sitemap of the newsroom, or a combination of all these.
A possible use case is a published article that's under embargo. It's now possible to hide this article in the Newsroom as well so unauthorized viewers will never realize it's there at all. No exclude tags needed.
Another use case would be to create a RSS feed from published articles that don't necessarily need to be visible on the newsroom as such. For example: calendar events. You could create a separate article for every event and hide these from the newsroom and archive, but not from the XML feed. This XML feed can then be used elsewhere, such as an external 'events' page.
To change the publication settings of an article, go to 'Publish Options' in the sidebar: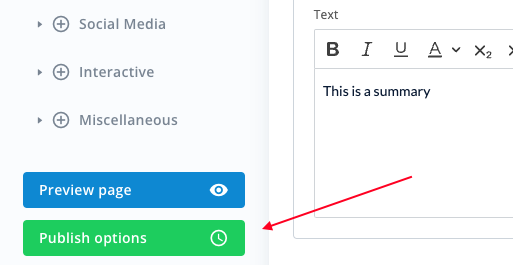 Click on the three dots (also known as the 'ellipsis menu icon') to open up the publication settings:
By default, all checkboxes are enabled, which means that the article will be visible on the Newsroom, in archive pages, feeds, search results and the sitemap. You can uncheck one, some or all of these options depending on your requirements. Click the green 'Save' button to save your settings.
Finally, you can also add 'noindex' and 'nofollow' meta tags to this specific article.