Publishing your article to multiple newsrooms simultaneously
In case you manage multiple Newsrooms, it is possible to write an article once and 'multipublish' it as Draft or as Published page to more than one newsroom at the same time.
This feature is available for customers on the Premium and Enterprise plans only.
Before you begin, make sure that your page language is also available in the other Newsroom: it's possible to multi-publish from English to English, but not from English to French, for example.
1. Once all revisions have been made, and the original article is ready to be published to the Newsroom, click the green "Publish Options" button in the sidebar: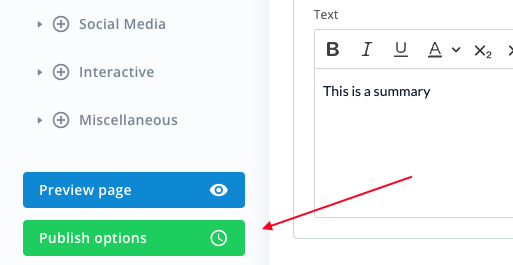 2. On the page click "Options", this will unfold the other Options including "Multi Distribution".
3. Click the button "Multi Publish".




4. In the popup, you can select one or multiple Accounts which you want the push the article to:

Or you can select all accounts at once:

You then have two options, step 5 or 6:
5. Push the article as a Draft to other accounts
a. To push the article as a Draft page to other accounts select the option "Copy as draft" next to the Add button. If you do not select this option, the article will be published immediately on the other accounts.
b. If you have selected all accounts and "Copy as draft", click on "Add" to push the article to the other accounts. The article will appear in the Draft section on the Pages overview page of the other accounts.



6. Push the article as Published to other accounts
a. Once you have selected all accounts click "Add" to add Multi distribution to the article publication. The Multi distribution message will now appear below the feature. Hovering over the i will show to what accounts the article will be pushed. By clicking on the 'cross' icon, the Multi distribution can be deleted.
b. When you publish the article, the article will appear on the other Newsrooms and in the Published section on the Pages overview page of the other accounts.
Multipublishing an article will not copy assets such as images to the new account. Instead, the image module will refer to the images in the article of the old account. For this reason, it's good to know that any changes to an image module in the old account will also have effects on the account the article has been multi-published to.