Use your own URL shortener for your articles
It's possible to make use of your own URL shortener by connecting your existing Bit.ly account.

To do this, click on your user icon top right in the navigation bar:

..and choose 'Personal Settings'.
Then click on 'Advanced'. You should see the option to add your Generic Access Token: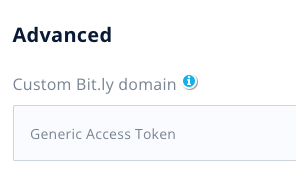 Fill out the Generic Access Token of your existing bit.ly account and click 'Save'. For every future article, the platform will generate custom short URLs for articles of that account.