After you have finished creating the campaign, it's time to add recipients.
Adding recipients
Click "Recipients" in the bottom right corner to choose from your contacts who the email will be sent to.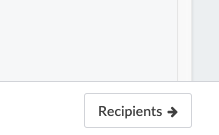 ​
You'll be taken to the 'Recipients' screen, where you have the option to add single individual contacts and lists of contacts. If you're also a Media Database customer, you have the option to add Media Database lists as well.
​
The "Preview Campaign" option in the top right corner allows you to open the campaign as a preview in a separate tab, or send a test email.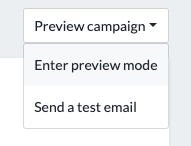 ​
To send a test email, enter an email address in the field provided, and click "Send test email".
We recommend sending a test email to yourself before sending out the campaign to your list.
​
Sending the campaign
Select from the options to send the campaign immediately, or schedule it to send at a later time.
​
Click "Send now" or "Schedule Campaign".
Unsent, saved draft emails can be found in the "Draft Campaigns" module and edited before being sent.
​
​
Email campaigns scheduled to be sent in the future can be found in "Planned Campaigns". A Planned Campaign can be edited up to 5 minutes before it is queued to be sent.
​
​
Emails that have been sent can be viewed in "Sent Campaigns".
​
Once the mail has been sent out, you'll see the amount of recipients, as well as how many contact lists and how many Media Database lists were used. Hover over the 'i' icon to see the names of the lists.

​
Clicking on an individual email campaign will open more details, stats and open rates.