Finding the right people and maintaining a list of contacts
Included in the Presspage platform is the Media Database, a list of over 1 million journalists, bloggers, influencers and other media contacts who have opted-in to the database.
Note: there is also a video tutorial that walks you through these steps.
Table of contents:
If this feature has been enabled for you, you will see a 'Media Database' heading in the sidebar of the Contacts section: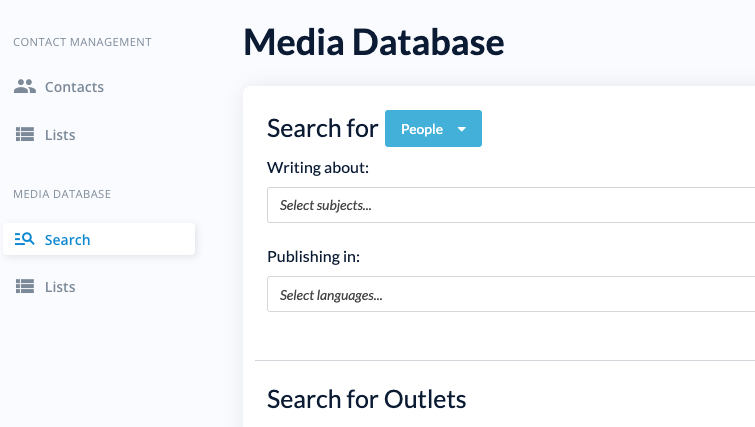 Searching the Media Database
The first option is to search the Media Database. You have the option to search for specific subjects, different languages and locations, certain job roles and even a particular name or email address.

Searching for subjects shows you a drop down menu with a list of pre-selected subjects. The checkboxes mean you can search for multiple subjects at the same time.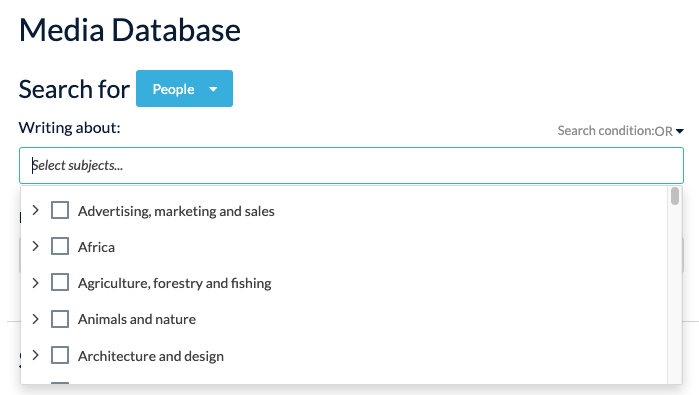 This search can be done with an AND operator (writing about subject A AND subject B) or with an OR operator (writing about subject A OR subject B):

Of course, you can also select a specific language: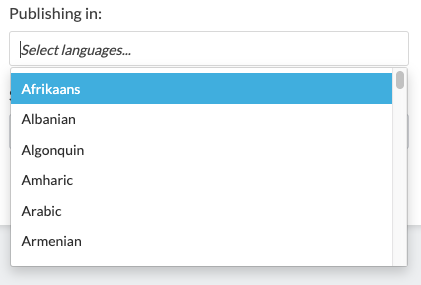 It's also possible to narrow the results further down by combining these two: the query below will yield results for people writing about animals and nature in German.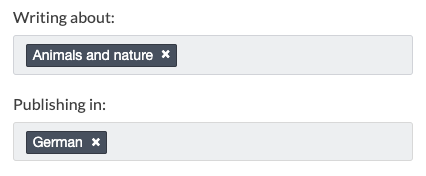 Further narrowing down can be done by searching for people located in certain countries: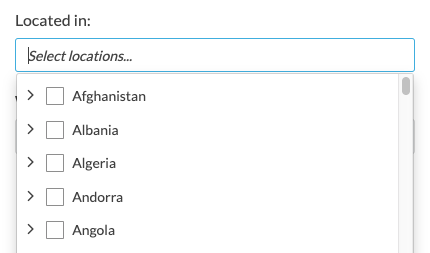 ..and even with a specific job role: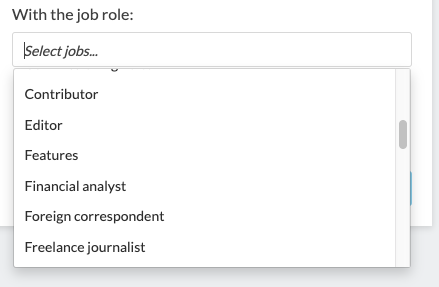 Searching for specific outlets
Another filter is to search for outlets by name:

For example, you can search for a certain newspaper. Another option would be to search for 'New York', which would yield all outlets with 'New York' in the title, such as the NY Times but also the NY Post.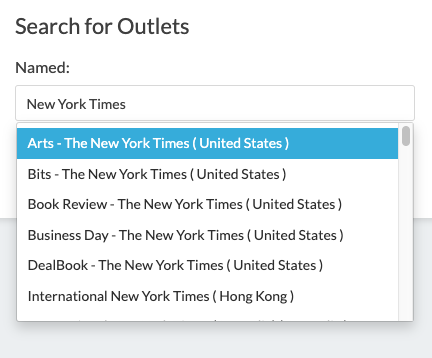 Additionally, you can also search for a specific format or media type, such as regional newspapers only.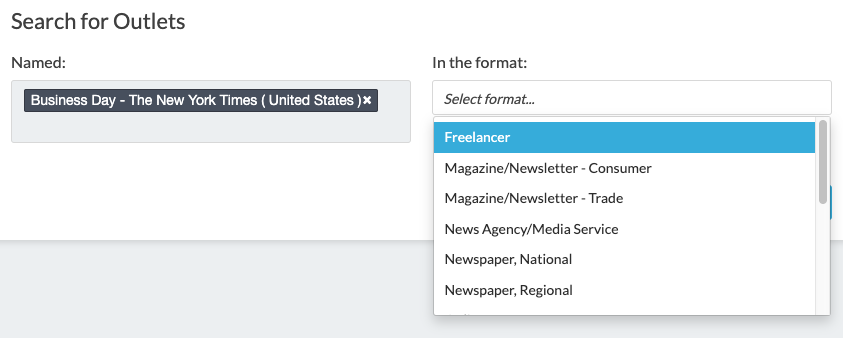 Searching for specific keywords
A third option is to search for keywords which you can define yourself. This option is great when you're looking for someone writing about more niche topics. Choose 'keyword' in the dropdown menu: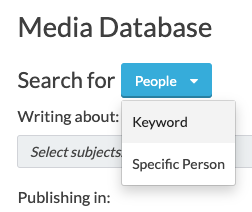 You'll have the option to enter a keyword and a specific location:

Such as finance and the US:

Finally, you will be presented with an overview of your search results and the option to import all contacts to a list:

If you feel a search result is (no longer) accurate, please contact your Customer Success Manager.
Finding generic email addresses
Sometimes you are not looking for the contact details of a journalist, but you'd rather have the outlet's general email address.
To find those in the media database, search for the outlet and click view results. In the column "Outlet name" click on the name of the outlet. On the outlet details page you can find the general email under Outlet Information.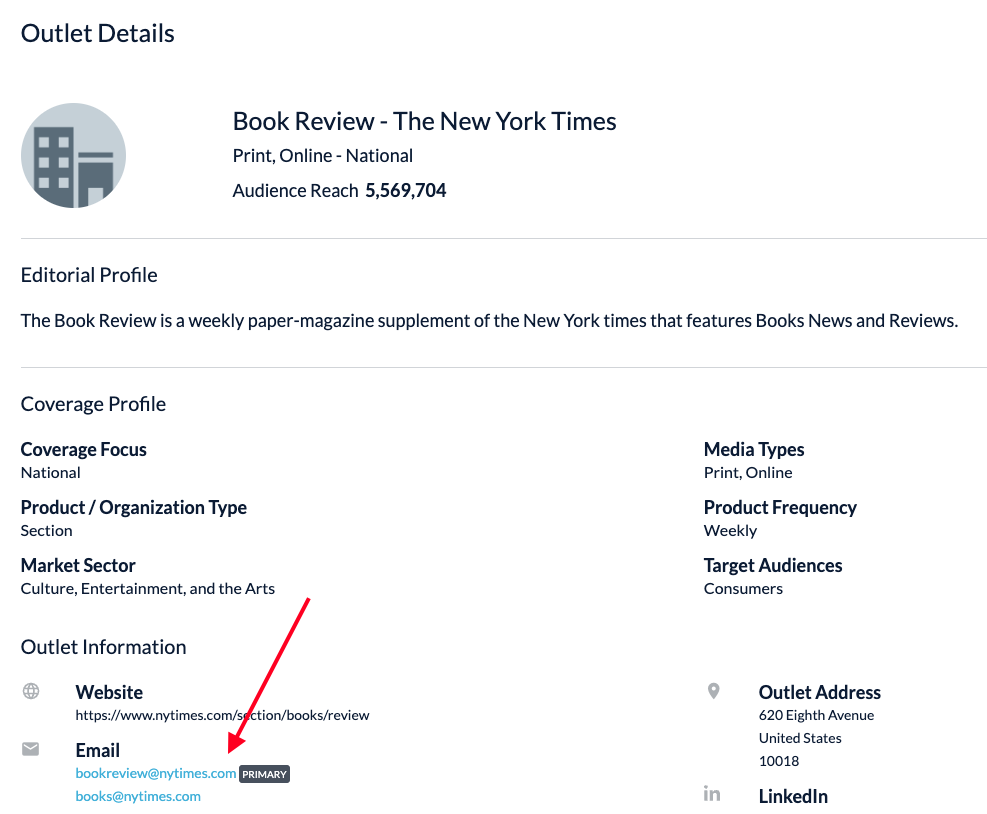 Maintaining a list of contacts
The second option is adding your Media Database contacts to a list and maintaining that list. If you click on the 'import contacts to a list' button, you will be taken to another screen, with the option to either add the contacts to an existing list or to create a brand new list.

If your newsroom is published in different languages, you have the option to restrict access to the list on a per-language basis:

If you have lots of lists, you can also search for lists containing your search term, or filter based on language access or tags:

This feature is available upon request only. Please contact your Customer Success Manager for more information.