How to add links to external news sources to a Newsroom or article.
This article will explain how to use the "Coverage" module to display news from external media outlets on your Newsroom, or in an article. The module is used to archive press coverage.
1. Go to "Newsroom" or select a specific article from "Pages".

2. In the sidebar to the left, choose the "Miscellaneous" tab and then click on "Coverage".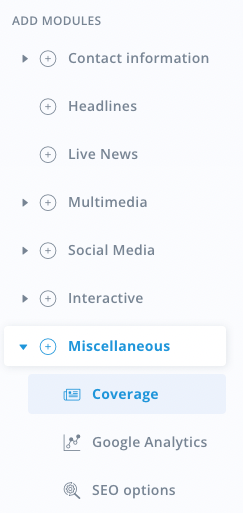 3. Toggle the "OFF" button in the upper right corner to "ON".
4. Choose one of the display options. 'Default' will show the different items in a list: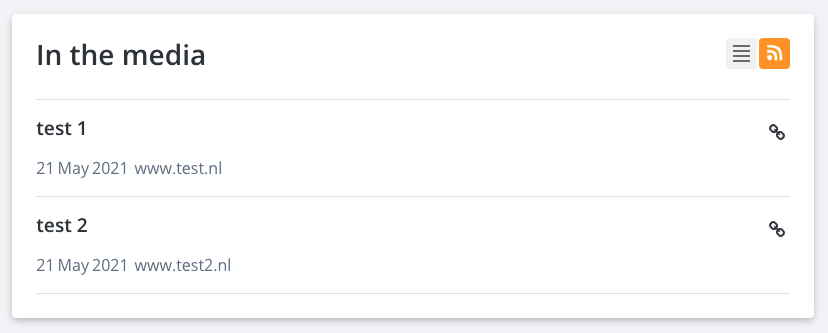 The 'blocks' option will show them as blocks next to each other, with a minimum of 2 and a maximum of 4 per row:


If you uncheck the 'show thumbnails' option, the generated thumbnails will not be shown.
5. Once you have chosen your display mode, click the "Add new item" button.
6. Enter a Title.
7. Enter a Description (usually the name of the media outlet).
8. Choose the date and time (usually the date and time of publication).
9. Choose the type of media to be provided: "URL" or "File".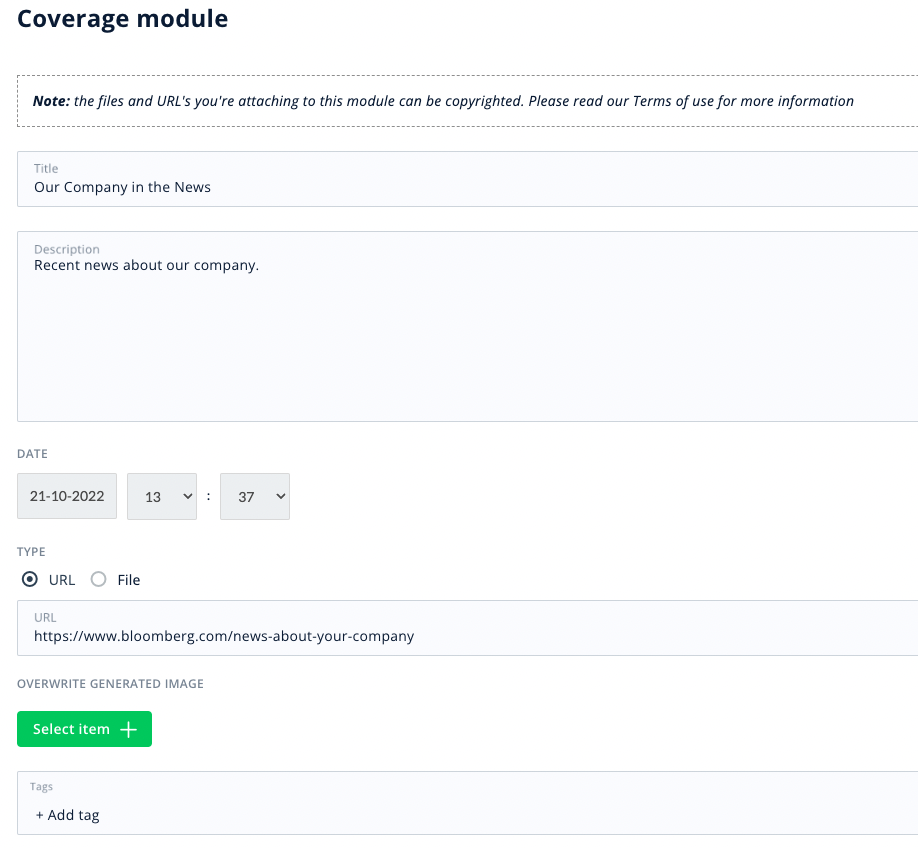 If using URL:
Enter the URL address of the external media story.
To generate a custom image thumbnail to appear with the news coverage, click on "Select Item" under "Overwrite generated image".
Click "Save".
Note: If no specific image is selected, the Coverage module will automatically generate a preview screenshot from the URL provided.
If using File:
Upload the file to be displayed by clicking "Select Item".
Click "Save".
Note: If using a file, be sure the file is in the correct format. For instance, .jpg is not a valid format, but .pdf will work.
10. Click "Save". The "Coverage" module will appear in the article, or on the Newsroom, depending on where the module was created.
If the Coverage module was created in an article, then the option "Also publish in newsroom" will be available. When turning this on, the items in this Coverage module will also be displayed on the Newsroom, but only if the Newsroom also has a Coverage module.