How to add buttons linked to social media accounts
This article will describe how to add a horizontal row of buttons that link to a social media account such as Facebook, YouTube, and X (formerly Twitter).

1. Go to "Newsroom", or select a specific article from "Pages".

2. On the sidebar, click on the "Social Media" tab , and then click on "Social Buttons".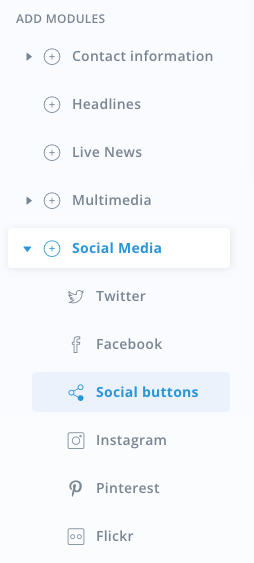 3 . To add the first button, enter the URL for the social media account to be linked, and click "Save".

4. To create additional buttons, enter the corresponding URL for the social media page and click the "Add" button.
Note: the buttons will appear in the order they are entered on the Newsroom and this order cannot be edited. To change the order in which each button appears, the button will have to be deleted by clicking the red "x" and re-entering them into the module.
5. Click "Save". The buttons will appear on the Newsroom or article.
To apply social media buttons to every article in a Newsroom at once:
1. In the "Social Buttons" page, click the red "Mass Edit" button at the top right corner

2. A window will appear to confirm you would like to add the social media buttons to every page of the Newsroom

3. Click "Yes"
4. Click "Save". The social media buttons will now be visible on the Newsroom and every article.