How to add live Twitter feeds to a Newsroom or article
This article will explain how to display any public X (Twitter) feed on a Newsroom or article. These widgets are interactive, so readers can reply, retweet, and like tweets directly from a Newsroom or article.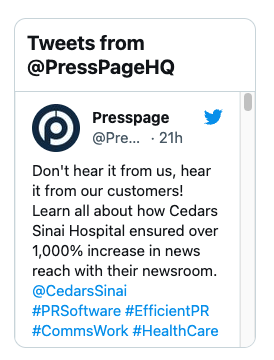 1. Go to "Newsroom", or select a specific article from "Pages".

2. In the sidebar, click on "Social Media" and then on "Twitter".
3. In the Twitter Module, click the "Add Module" button at the top right corner
4. Fill out the settings, add:
a title, if desired
the username of the X (Twitter) account to be displayed
the color theme.
Click "Save".
The Twitter module will appear on the Newsroom or article.
Adding or Removing Twitter widgets
To include additional X (Twitter) feeds, simply repeat all above steps.
To turn off one or more X (Twitter) feeds, toggle the "ON" button to "OFF" for each, and it will no longer be visible on the Newsroom or article.
Click Save when finished.
Note: The widget will automatically be placed at the top of the sidebar. Use "Page Layout" to drag and drop the Twitter Widget in the preferred location.