How to add, edit and display contact information on a newsroom site.
This article explains how to create and display relevant contacts to a Newsroom or article. The information allows journalists and other readers to contact the relevant contacts via phone, email, or social media.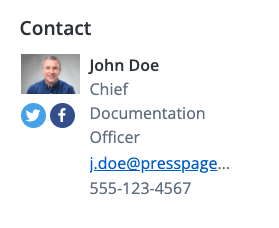 1. Go to "Newsroom" or select a specific article from "Pages".

2. Under modules, click on "Contact information" and then on "Personal information".
3. On the personal contact data screen, toggle the OFF button to ON
4. All available contacts will appear below in a checklist.
5. To add a new contact, click the "New Contact" button at the bottom left.
6. A new window will open. Fill in all applicable information for the new contact and a photo, if desired.
7. Click "Save".
To make edits to existing contacts, hover over contact name and click on the pencil icon that appears. Remember to click "Save" after revisions are complete.
To display contact information on a Newsroom or article, check the box next to each contact name applicable.
8. To choose how the contact information and photo will be displayed, use the buttons under "Display Options":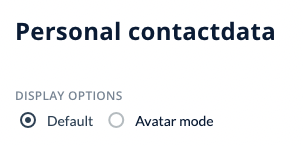 Default display: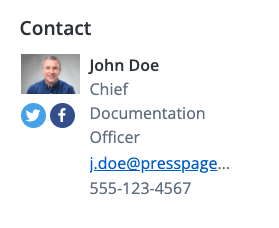 Or Avatar mode: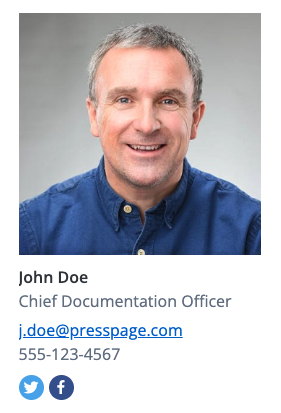 Note: The actual appearance may vary slightly depending on the template.
9. Arrange the contacts by clicking and holding the move icon:

and dragging them to the correct order.
10. Click "Save".
Selected contacts will now be visible.
Note: Only admin users can create new users on the platform. For a contact who will also be a user on the platform, create the new user via the Admin Settings menu: