Guidelines for maintaining a healthy sender reputation.
Maintaining a good sender reputation is very important in order to avoid spam boxes and blacklists. This means that you need to maintain a low email bounce rate, or it might impact your deliverability.
This article will explain the best practices of email distribution.
Maintain List Hygiene
Follow the below steps to maintain a healthy contacts list for all campaigns:
Remove any addresses that have hard bounced immediately (e.g. invalid address).
Remove emails that repeatedly soft bounce (e.g. inbox full).
Remove email addresses that are inactive; no opens, or clicks. Mailbox providers take interaction, such as open or clicks, as a positive sign that improves reputation.
It's recommended that after each sent out campaign, you review your list of hard and soft bounces and take action accordingly.
How to check if a email address is invalid
In campaign statistics, click the 'See details' button under hard bounces: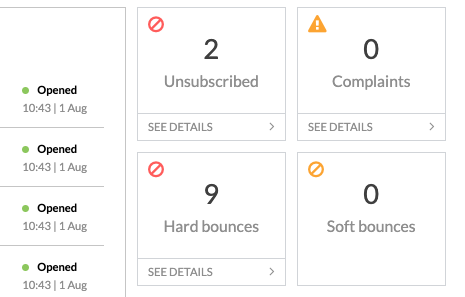 For each hard bounced recipient you can open a drop down.
If you see a message 'Retry limit reached', it means the mail tool had tried to send out a campaign to this recipient multiple times. This indicates the email is still valid; with an invalid email address the hard bounce appears after one try.
Monitor Sender Score
Monitor sender score with handy tools such as Senderscore.org and make sure the email server is not blacklisted using MX Toolbox.
Best Practices
Use an unsubscribe link in every email sent. This is required by law, and sending an email to an address that has previously unsubscribed is a violation of the law.
Make sure all recipients of your campaign have opted in to receive emails. If you have purchased contacts from a third party, always make sure the third party ensures consent of the recipients.
Keep images to a minimum to avoid triggering spam filters, and to reduce the load time of the email. Avoid using large file-size images.
Make your emails interesting and clickable: how people interact with your messages has an impact on your sending reputation.
Too many images and links in your email may trigger spam flags. Keep an eye on your text-to-image ratio.
Don't use URL shorteners in your email; these are frequently used by spammers.
Subject lines should

not

be in ALL CAPS.
Make sure your emails are not too large. Keep in mind that many email servers will reject emails larger than 20 MB. This includes attachments.