As Inquires start to pile up in your inbox, you may find yourself wishing for a little assistance to help you answer these questions. With the recent rapid developments in the field of artificial intelligence, AI can now help you with this.
For example, it can help you craft a message based on bullet points and translate it to complete sentences, in (almost) any language of your choice. 
Go into your Inquiries, and type a message in the 'Note' section: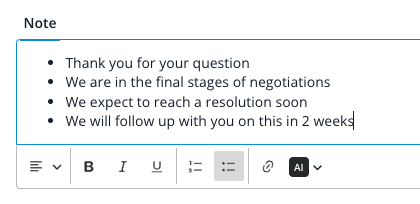 Clicking on 'Generate comprehensive message' creates a message out of your bullet points: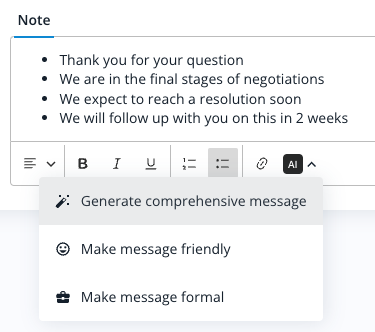 And this is the result of our example:

It's possible that you find this message a bit too formal. Clicking on 'make message friendly' can result in something like this:

Conversely, it's also possible to make the same message a bit more formal:

As you can imagine, this may save you quite a bit of time. 
It's important to always keep a close look on what texts the AI generates. The technology is maturing rapidly, but it's not perfect, and at this stage it's still important to apply a human touch and check if the AI output is factually correct and makes sense.