Note: The instructions below only apply if this feature has been enabled for you. For this feature to be added, you will need to contact your Customer Success Manager. We can then make the necessary arrangements to have this added to your Newsroom.
For customers listed on the Euronext index, we now offer the option to directly push your Investor Relations content to Euronext Live upon publication.
If this feature has been enabled for your account, start with going into your Advanced Settings. There you should find your Euronext LIVE company name to be filled out.
Once this setting has been entered, you can create your content as usual.
On the bottom of the article editor, near the featured image, you will find the 'Euronext Release Themes' category setting:

Select one or more themes to have your article categorized within the Euronext Live platform. These themes have been chosen by Euronext: it's not possible for Presspage or customers themselves to add new themes to this list. Therefore, it is not a substitution to the already existing tagging system.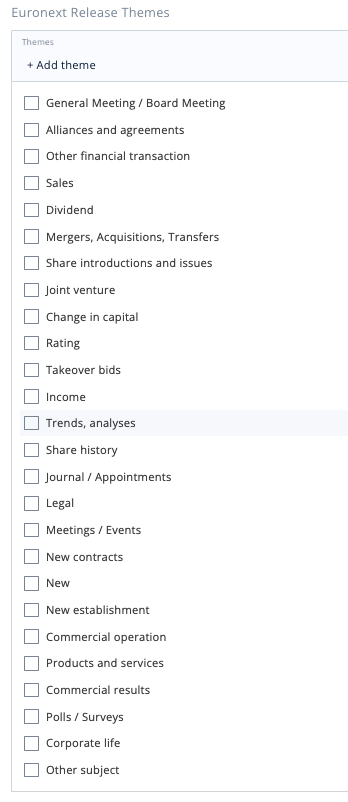 You'll need to select at least one of these themes to push your article to Euronext Live.
Once you are ready to publish, you can select Euronext Live from the list of social channels in the same way you can push your content to Twitter or LinkedIn.
This will create an RSS feed which will be read by Euronext and published on the 'Regulated News' section of your company page on Euronext Live. Currently, images, PDFs and other multimedia assets are not included.
Note that the feed does not update automatically after editing your article text: you will need to initiate a new push to see these changes reflected on Euronext Live.
To publish an article, email it, and push it to Euronext at the same time all at once, create a draft article as usual. Via 'Publish Options', add the channel 'Email Campaign' and make any changes where needed. Then go back to 'Publish Options' and add the 'Euronext' channel. Finally, publish your article or schedule it for a later time.