Bulk editing your uploaded digital assets
First, click the
Asset Manager module
in the sidebar. This can be accessed from the Newsroom, or in an article, on the left side.
It is assumed that you have already uploaded some files. To make edits to more than one file at a time, click the box next to each image to be edited, or click the box at the very top to select all images.

As you can see, selecting an image this will also enable the red 'Delete' button, which allows you to remove one or more images at the same time. You'll be asked to confirm your choice prior to removal.

Click the cog wheel next to the word "Options" at the top right corner. A "mass edit" button will appear.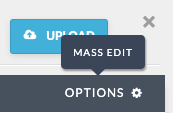 Click "Mass Edit". A new window will open with selections that can be applied to multiple files at once.