How to add images to a page using the Image Module.
Table of contents:
This article will describe how to add and configure images to the Newsroom or an individual article.
Add the image module
1. Go to "Pages" and select an article.

2. In the sidebar, click on the "Multimedia" tab and then click on "Images".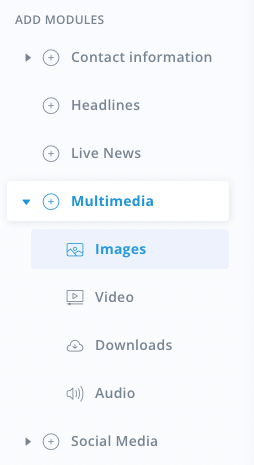 3. Add a new Image Module by clicking the green "Add Module" button.

4. Choose how the images will be displayed on the article.

Add images to the module
5. To start adding images to the module, click the "Select item(s)" button.

You can also add a title and/or description by checking the boxes just below 'Display captions'.

6. The Asset Manager will open. Select any images to add to the Image module by clicking each one, and then click "Select".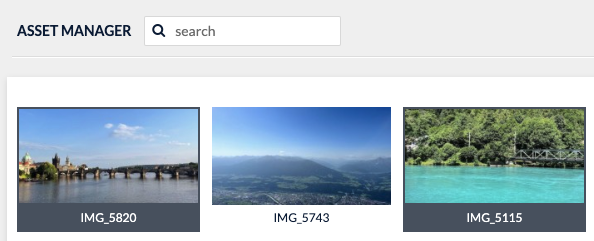 7. To upload additional images to the Asset Manager, click the blue "Upload" button at the top right.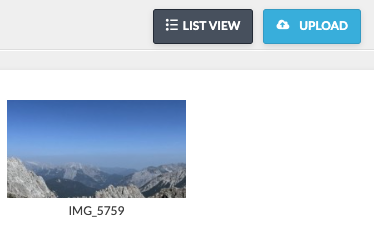 To upload images from a computer, click the blue "Upload Items" button. Select all images to be uploaded. Wait for the green check box to appear that indicates the file upload was successful.
To upload images from a web page, click the "Upload via URL" link at the bottom to open up a text box to add the image URL: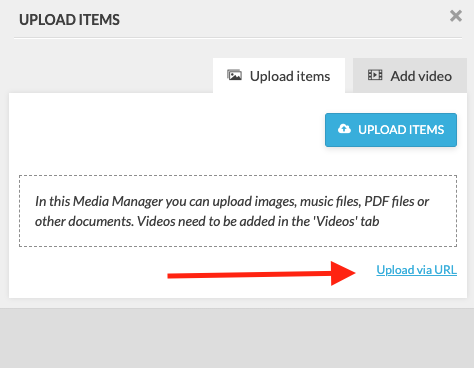 8. The image(s) will now appear in the Asset Manager. Select all images to be used on the Newsroom or article by clicking on them. Click "Select". When you're done selecting pictures in the Asset Manager, click 'Save' and then 'Close'.
Note: to add or edit the title, description, and category tags of images, please see the article "Asset Manager Module".
After having created an Image Module, the "New Module" button appears which allows you to add more Image modules in the same manner. If you have multiple languages you could then use the 'mass copy' button to copy the image module to the other language newsroom or article.