Adding or changing personal profile details
This article will explain how to change the personal profile photo of your account.
1. Click on the arrow button near the account and profile images at the far right side.
​

​
2. Click on "Personal Settings" in the drop-down menu.
​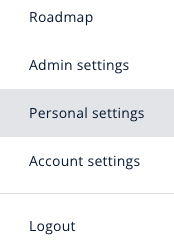 ​
3. On the top of the page, you'll have the option to upload a profile photo:
Choose an image from your hard drive and click 'Save' to save the photo. The profile photo will now be visible in the top right corner, and whenever that Personal Information is used in a Personal Contact Module on the Newsroom or an article.
4. Additionally, information such as name, job title, email address and phone number can be added, edited or removed.
​

​